I hope everybody had a wonderful weekend! I took The Looney out for the first time this year. This weekends camping trip was a rehearsal for the Circle Tour, and I'm glad we did it because I have a list of things I would have forgot.
I didn't want to go too far from home this weekend so we went south to Big Woods State Park down by Northfield, MN. It's a great spot, I will definitely go back!
We left Friday afternoon and it only took us about an hour to get down there. We were able to spend most of the evening outside before it started to rain, seems we can't go a day without rain.
Eleanor loving up Eliza.
Eliza and Joy




Since we were stuck inside Friday night and most of Saturday we cuddled up in bed and watched old episodes of the Brady Bunch. I got a lot of quilting done on the wall hanging for The Looney. Although we had fun hanging out watching TV and quilting, I was really bummed that the weather was so crumby. This park has lots of hiking trails and I was looking forward to exploring. I've learned that you just have to go with the flow and make the best out of the situation, and we did.
Saturday afternoon it did stop raining and we got out for a hike on the 'hidden falls' trail. It was an easy one mile loop down to a river and small waterfall. Eliza loves to swim! This is my first summer with Joy so I wasn't sure how she would like the water.
Hike down to the falls






Eliza couldn't wait to jump in. This dog LOVES to swim.




Joy wasn't so sure, she stayed close to shore.


All my girls by the falls.
After the hike I started a camp fire and began reading about Lake Superior. I have all the camp sites reserved for our trip but I wanted to read up on the history of the areas we are going to. I found a good book and a couple magazines that are full of info on where to sight see, shop and eat. While I sat at the table and read, Eleanor poked around in the fire and the dogs slept. This was my favorite part of the weekend, everybody was content. I was able to sit for more than five minutes without getting up to do something for somebody!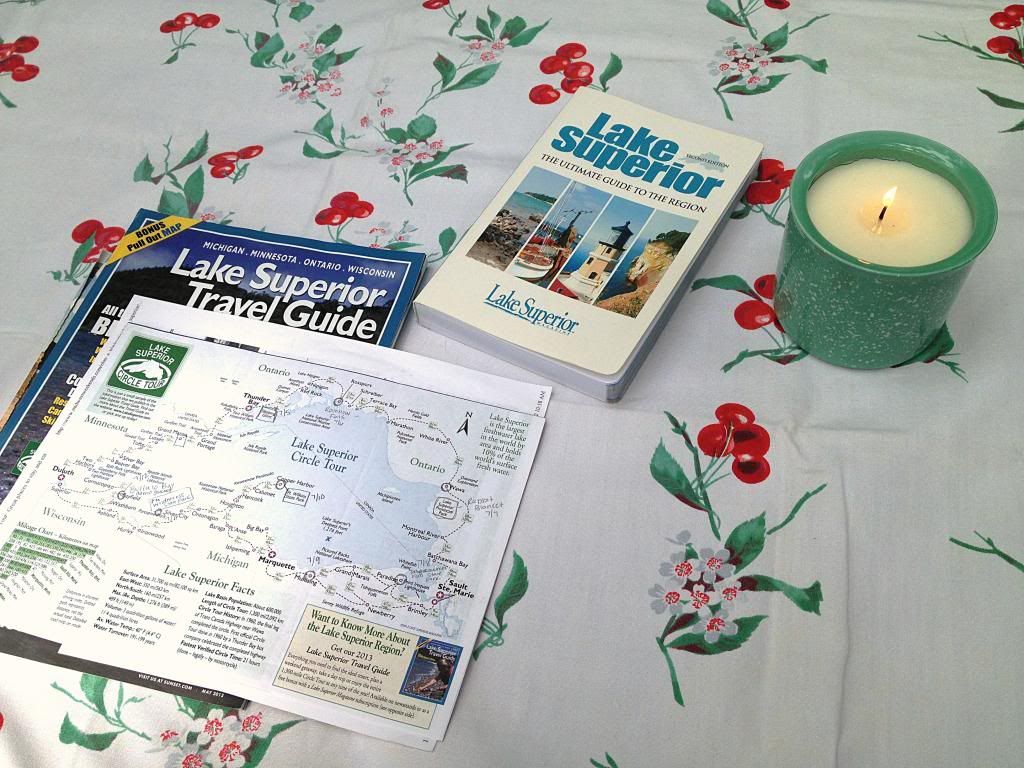 My Lake Superior reading materials.
Our camp site
Despite the rain, we had a fun weekend. I'm looking forward to the big trip, a little nervous too. I've heard it's the trip of a life time and that everybody needs to do it at least once. I'll let you know if I concur when we get back.
Have a wonderful week, everybody!!
Jennifer