Day 6 - July 17, 2013
Paradise, MI to Munsing, MI - 96 Miles
This morning we drove out to Whitefish Point to visit the
Great Lakes Shipwreck Museum
. This is such a great little museum, worth the stop if you're in the area. Whitefish Point is the site of the Edmund Fitzgerald wreckage, along with many others. The "Fitz" is the largest ship to go down in Lake Superior, all 29 crew members were lost with the ship.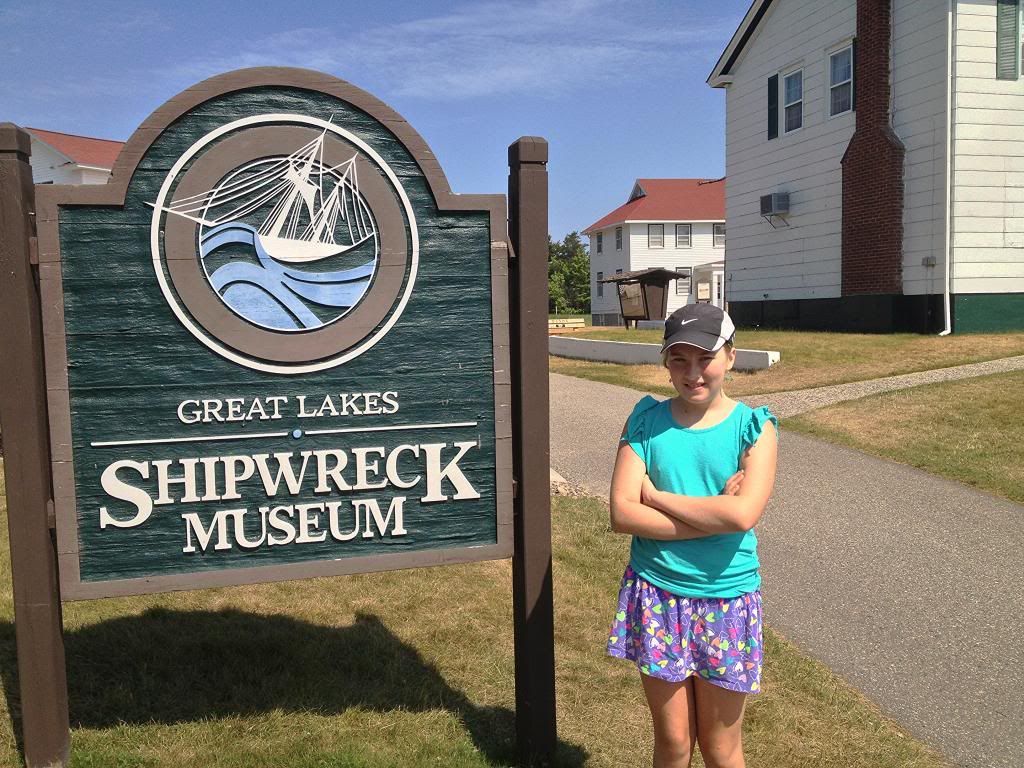 The Whitefish Point lighthouse was not operating the night of the storm that sank the Fitz, of all the nights to be closed! To this day they still don't know what caused the Fitz to sink. In 1995 they raised the bell from the Fitzgerald and replaced it with a new one engraved with the names of the 29 crew members that were lost.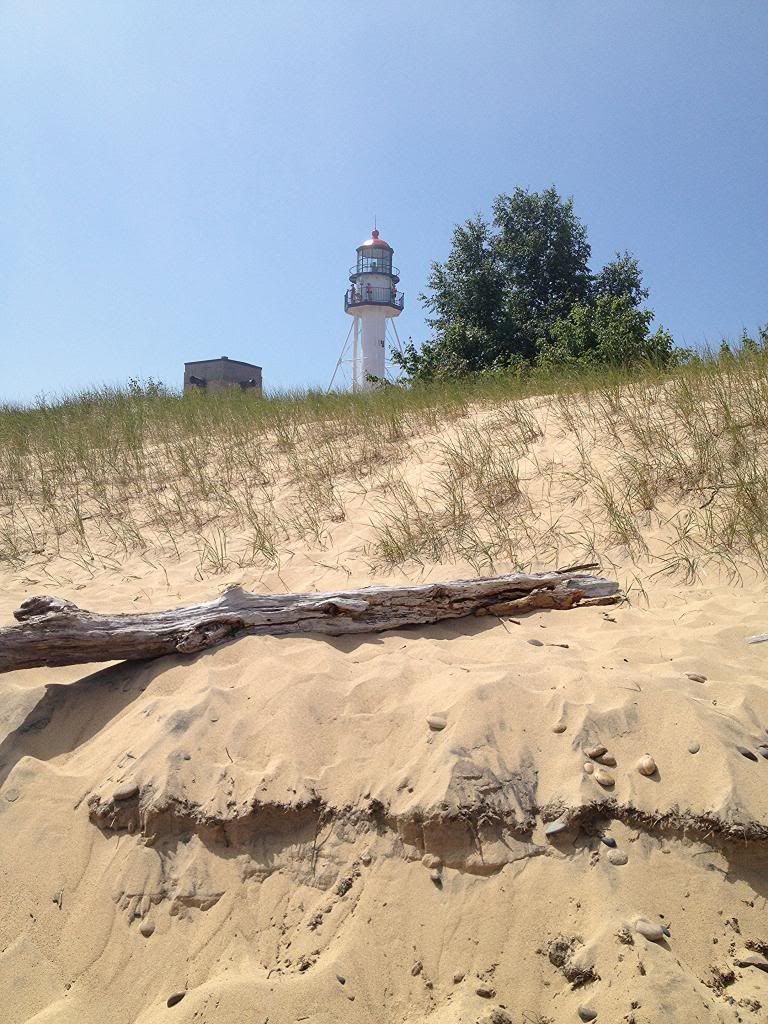 Whitefish Point Lighthouse
Bell from the Edmund Fitzgerald










Beach at Whitefish Point - Right
Beach at Whitefish Point - Left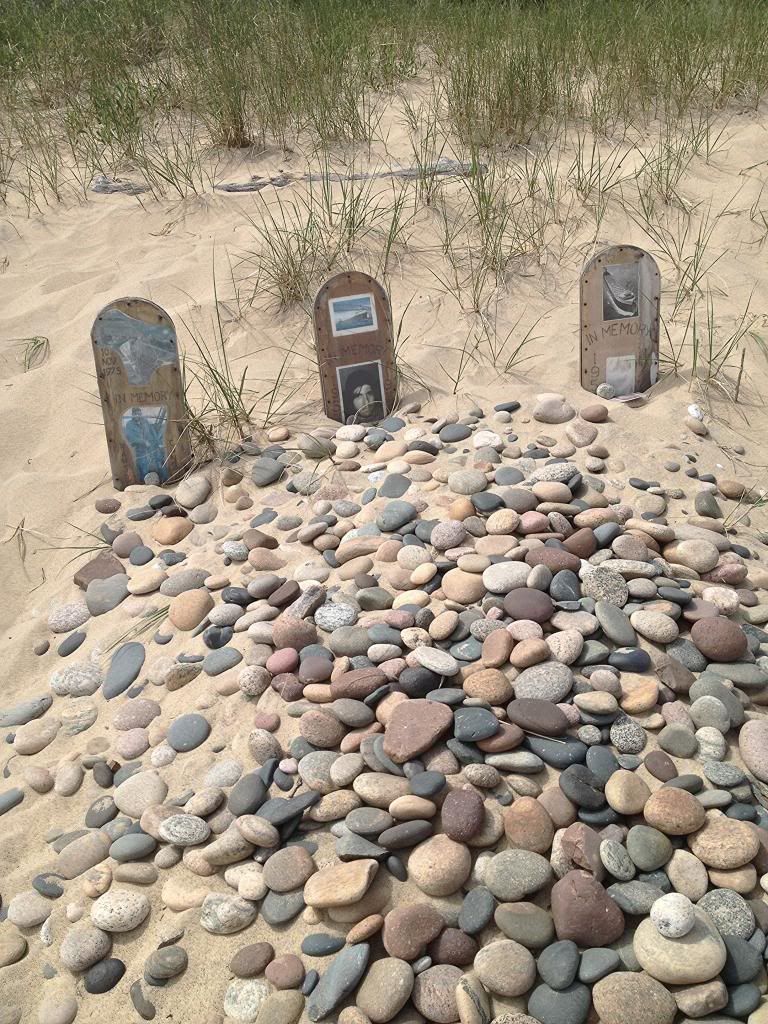 Makeshift memorial on the beach for three of the crew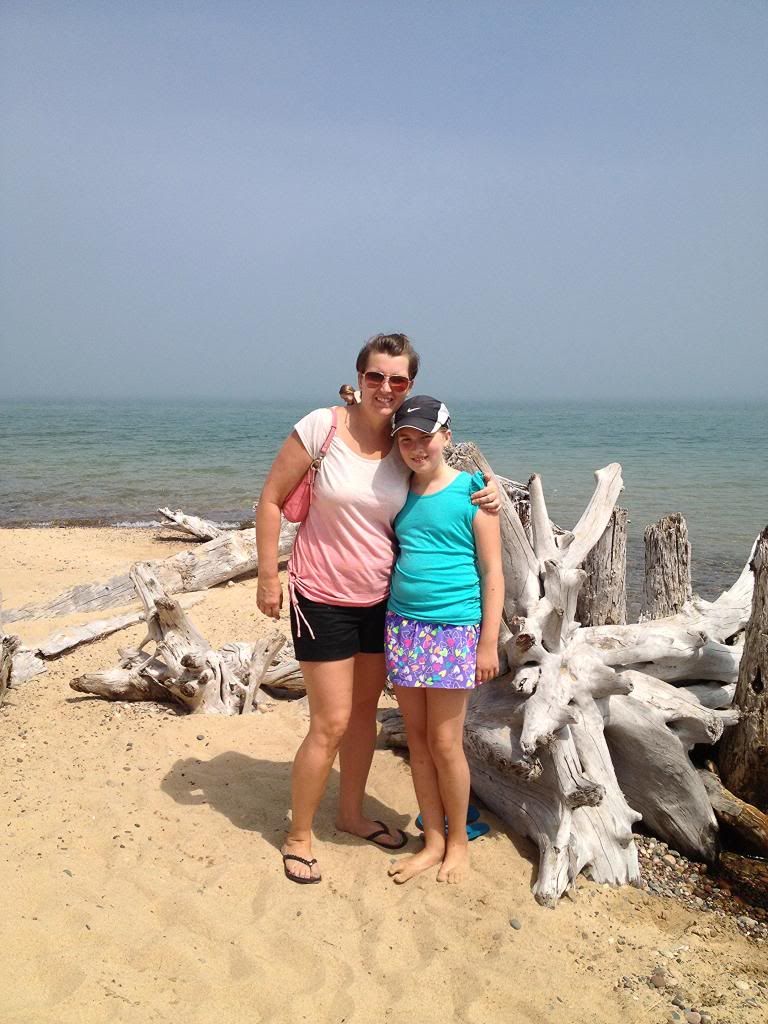 Me and Eleanor on the beach at Whitefish Point
After the museum we headed to our next destination in Munsing, MI. There are no state parks in this part of the Hiawatha National Forest so we stayed at a private camp ground on Otter Lake. I was a little nervous about the campground but it turned out to be a nice spot. We got another pull through site (yeah! no backing in) and once again, as soon as we got settled it started to rain. Luckily we had a break in the clouds around dinner time. We took a paddle boat out for a spin around Otter Lake, and we also played a couple games of tether ball before it started to rain again.

Day 7 - July 18, 2013
Munsing, MI to Copper Harbor, MI - 189 Miles
In Copper Harbor we stayed at Ft. Wilkins State Park. The park is situated between Lake Superior and Lake Fannie Hooe. Our camp site was right on Lake Fannie Hooe and it was another drive thru site!! Yeah for me. The lake is beautiful, surrounded by trees so thick you couldn't see anything else.
Lake Fannie Hooe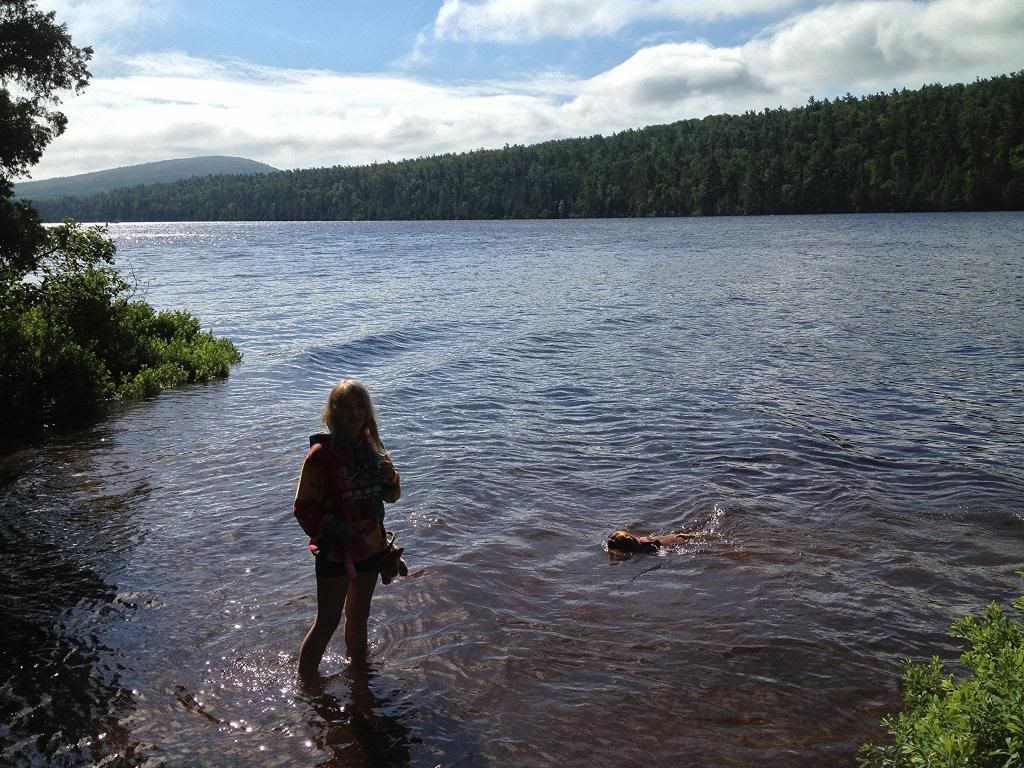 Eleanor and Eliza swimming in Lake Fannie Hooe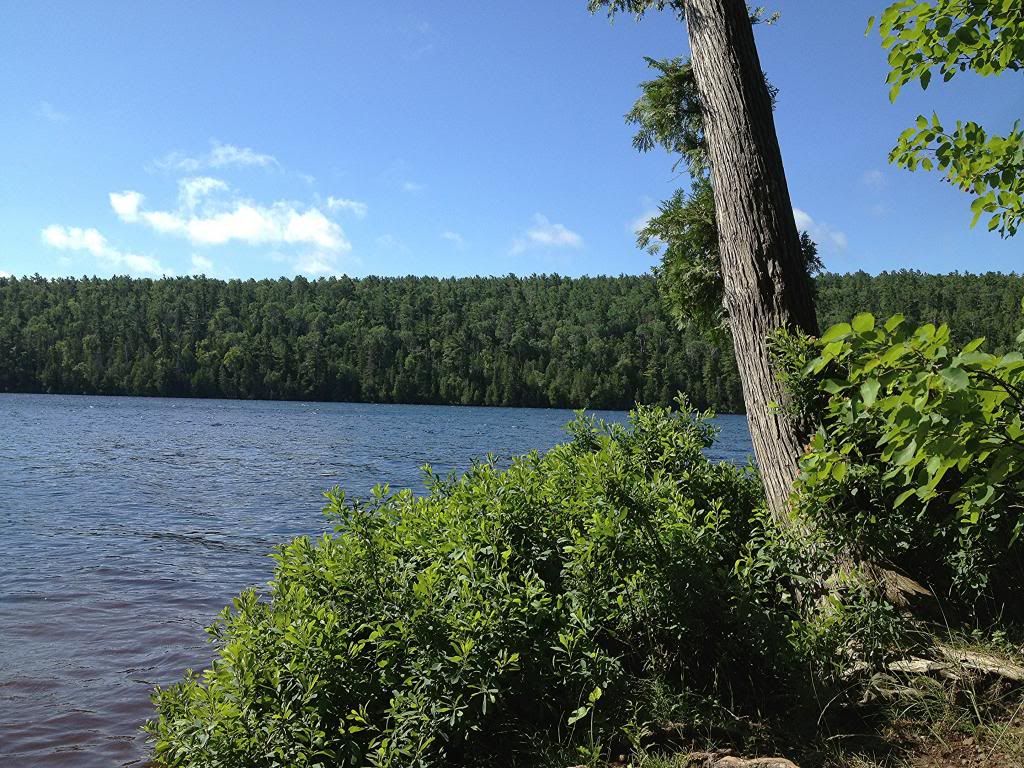 Lake Fannie Hooe
Fort Wilkins was once an active U.S. Army post built to keep peace in Michigan's Copper Country. It was built in 1844 and abandoned just two years later. The fort has been well preserved and is open to the public. It sits in the middle of the camp ground and was a quick walk from our site. All the building are open and have been restored.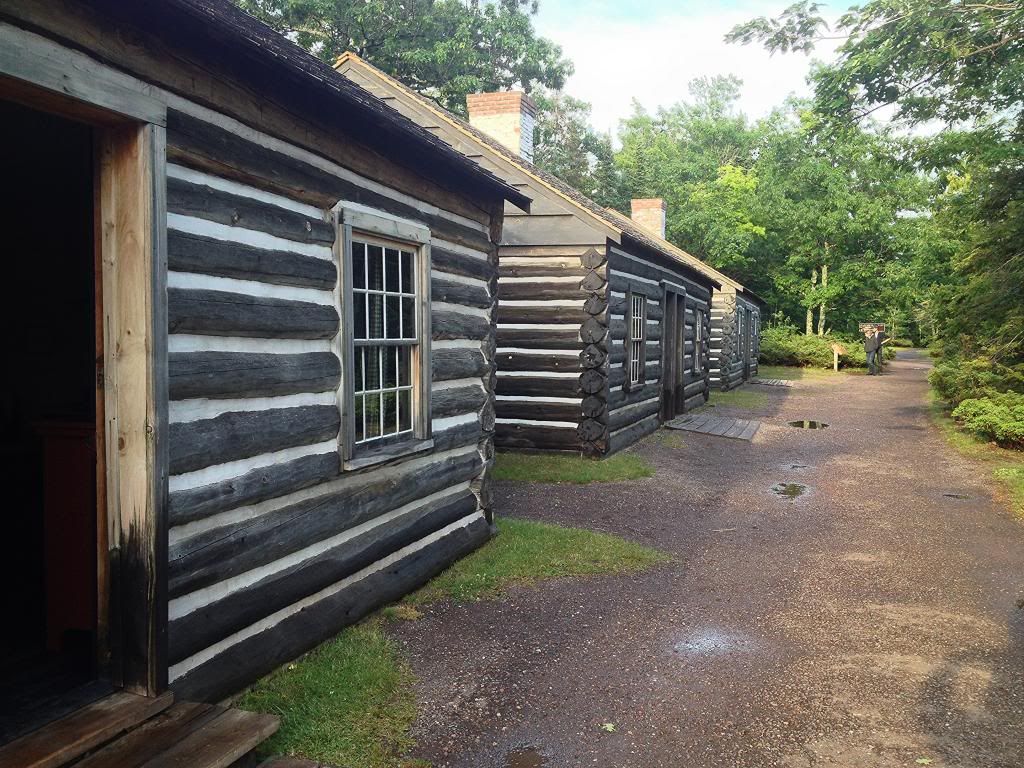 Living quarters for the married soldiers at Ft. Wilkins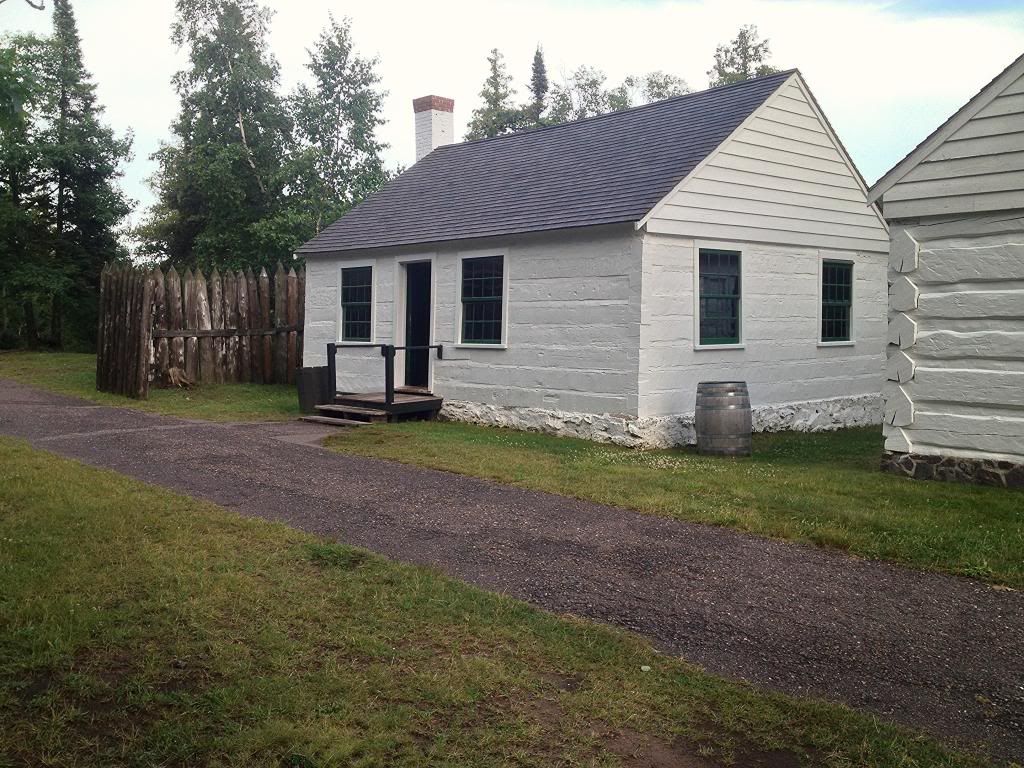 Bakery building and the back of the black smith shop
This building is used for educational programs
Hospital, Officer quarters, soldier housing
I loved this park and the little town of Copper Harbor was adorable. There is a lot to do and see here; Copper Harbor Lighthouse, Copper mines, golf course, museums, shopping and all sorts of activities.
This is definitely a spot I will visit again and stay for more than one night.
Our campsite over looking Lake Fannie Hooe
Day 8 - July 19, 2013
Copper Harbor, MI to Silver City , MI - 114 Miles
The drive along the Michigan shore line is all sand,it's beautiful. We were excited to get to the camp ground so we could hang out on the beach. We stayed at Porcupine Mtn Wilderness State Park.
Lake Superior Michigan shore line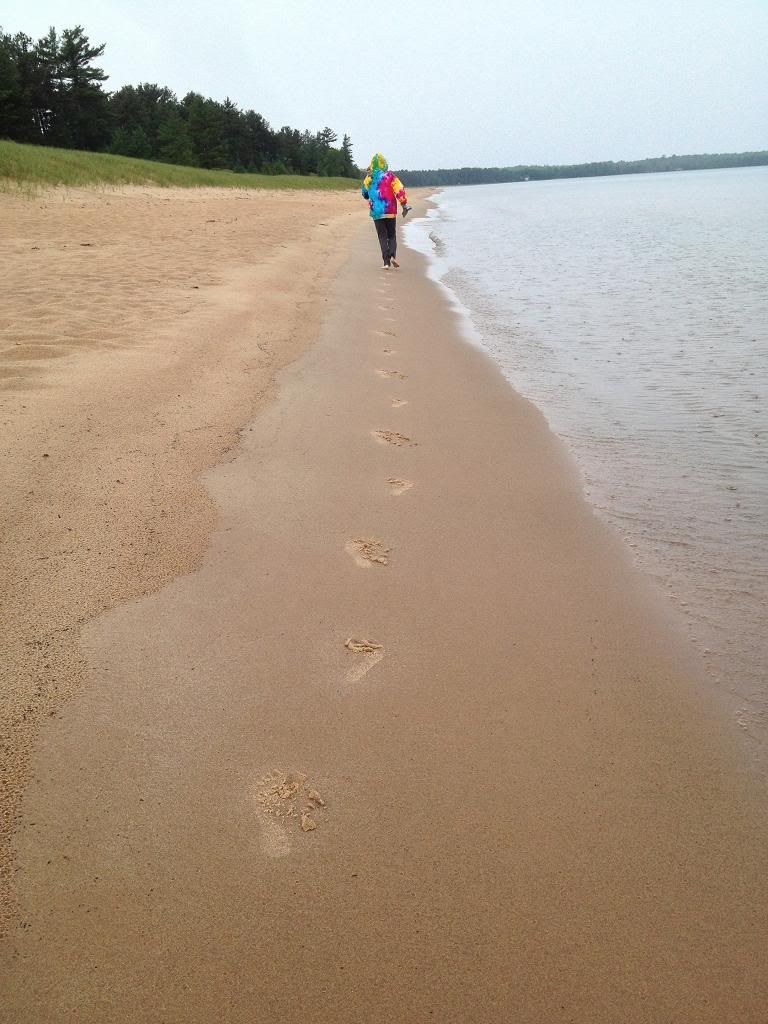 Eleanor running down the beach
This park was a total disappointment. The campground was only wooded around the perimeter so the interior sites had no privacy. The site we were on was so small my tiny camper barely fit. The campground staff was not helpful, and they had no fresh drinking water due to a water main leak. I lost $2 in the vending machine trying to get a bottle of water and they wouldn't refund my money. The beach was full of debris from what looked like hundreds of trees that had washed up on shore. Of course the cruddy shoreline didn't keep Eleanor and the dog from swimming.
On the bright side, it wasn't raining! We finally got to have a camp fire and s'mores! I couldn't wait to go to bed so we could get up and leave this park. This is one I will not visit again.
Day 9 - July 20, 2013
Silver City, MI to Bayfield, WI - 114 Miles
Our last day
of the trip and it was a good one! Bayfield, WI is a sweet little town with lots of activity. Many boats on the lake; sailboats, fishing boats, and kayaks. We were able to get another camp site right on Lake Superior looking across at Madeline Island. It was a gorgeous day and we took advantage of it! We sat outside and I worked on a little project. Eleanor and the dog swam, it was only 65 degrees but there's no keeping those swimming buddies out of the water!
View from our camp site in Bayfield, WI
Swimming at the camp ground in Bayfield, WI
I'm having a little electrical issue with The Looney, I hope it's nothing major!! Just want to make it home safe and sound. To date we have traveled 1,401 miles.


Day 10 - July 21, 2013
Bayfield, WI to , Minneapolis, MN - 224 Miles
Time to head home. I must admit that taking a 1,625 mile journey with a 10 year old and two dogs might have been a little ambitious. It was a ton of work being the only adult. There were some not so pleasant moments, but over all we had an awesome time. Eleanor got to see and experience things I never had in 40 years. I'm really proud of myself for heading out on this journey alone. It's something I've always wanted to do and I did it! It was an amazing trip, something we will remember always.